Pixel: ru STEAM KEY REGION FREE GLOBAL 💎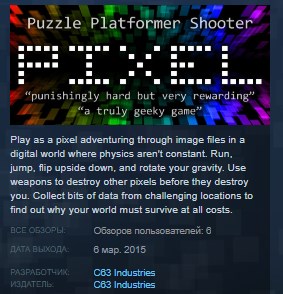 https://store.steampowered.com/app/351170/Pixel_ru/
💎💎💎💎💎💎💎💎
STEAM KEY REGION FREE GLOBAL
We live in an amazing time. Computers are becoming smarter and more powerful, and more tangible items are being turned into digital data. Science predicts that within the next hundred years artificial intelligence (AI) will be as smart as humans. Imagine the possibilities if this trend continues for thousands of years.
In the distant future, AI will be so common in technology that even a single pixel in an image file may be controlled by one. Pixel: ru² is a tale of a sentient pixel that is tasked with eliminating a virus and restoring corrupted image files. Being a pixel isn't easy; you'll face infected pixels, puzzles that require color and gravity manipulation, and precision platforming challenges. You can complete your mission as efficiently as possible, or you can let your curiosity lead you to bits of information that may reveal the bigger picture.
About
Pixel: ru² (are you squared) is a game that is a combination of a platformer, a shooter, and a puzzle game. The gameplay features color theory based puzzle and combat mechanics and gravity manipulation based puzzle and platforming mechanics. There are a lot of simple systems stacked on top of each other which makes it easy to learn, but difficult to master.
Early Access
Since Pixel: ru² was first conceived, we´ve been deigning it for be a competitive game. You don´t need to compete to enjoy the game, but we built the score system around players competing with each other on global leaderboards. To help make sure everything is balanced, we´re providing access to the game early. This will allow us to see what needs to be adjusted to help make the game better overall. We do plan on raising the price as we add more content to the game. If you´d like to purchase the game at a discount, buy it now before it goes up in price. Doing so will also help you shape some of the game´s mechanics. If you´re not willing to take the risk on an Early Access title,
---
ИНСТРУКЦИЯ ПО АКТИВАЦИИ:
1. Необходимо скачать и установить Steam http://steampowered.com/download/SteamInstall.msi
2. Зайти под своей учетной записью или зарегистрировать новую.
3. Перейти в раздел "добавить игру" и выбрать "Активировать через Steam...", ввести ключ полученный после оплаты.
Цена:
25
руб.
Купить или узнать подробнее
← Назад на главную страницу